Crispy Fish Tacos with Homemade Corn Tortillas

by: NICK DIGIOVANNI   |   November 20, 2019
Nick's Notes - Any good taco has a simple formula, and this all starts with homemade tortillas. After you've mastered this simple yet delicious technique, you can be creative and use a fresh fish, various vegetables with different flavors and textures, and a sauce to bring everything together topped with some fresh cilantro or parsley.
Technique on getting a crispy edge to fish
Making simple, homemade corn tortillas
Easy aioli that can be applied to many recipes
---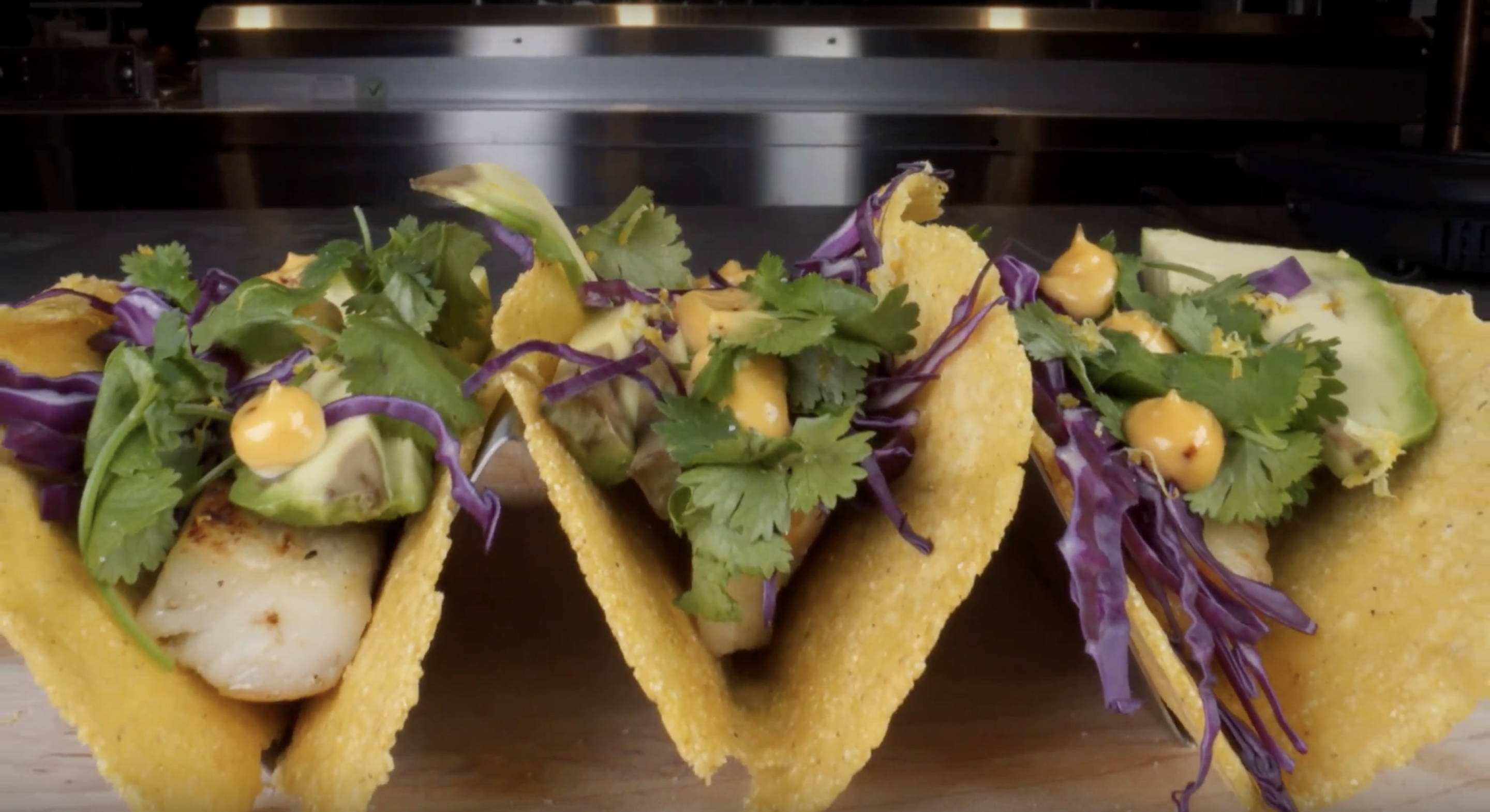 0.5 lb Halibut
1/2 Cup Potato Starch
1 Cup Masa Harina
3/4 Cup Warm Water
1 Purple Cabbage

to taste
1 Cup Mayonnaise
3 Tablespoons Chili Oil

to taste
1 Tablespoon Lemon Juice

to taste
1  
Cut fish into strips about the length of a taco shell.
2  
Dredge (coat) just one of the longer sides of each piece of fish in potato starch (can sub cornstarch, rice flour, or all-purpose flour). Shake off excess flour.
3  
Add a small bit of oil to a pan and heat until oil is just beginning to smoking. Add fish, floured side down, and cook until golden brown. When using the right skillet, the fish will release easily from the cooking surface when it is finished. Roll the fish around a bit more to cook throughout (about 5-7 minutes), and set aside. Lightly salt.
1  
Add corn masa to large bowl and pour in half of the warm water. Stir until crumbly, and then slowly add the rest of the water in small increments. If the dough can form into a nice ball and doesn't stick to your hands, it's perfect. If sticky, add more masa. If dry, add a bit more warm water.
2  
Cut a square plastic bag around the sides, leaving just one side still connected, and place inside your tortilla press so the corn masa won't stick to the machine itself. Shape your corn masa into the size of golf balls, and place them individually between the layers of the plastic bag, pressing to make the tortilla. Carefully remove
3

In a pan with a bit of oil, add the tortillas and cook just long enough that they are golden-brown on the outside and easy to pick up. Set them aside.
1

Combine the mayonnaise, lemon juice, and a few spoonfuls of chili oil depending on how spicy you want your sauce.
2  
Thinly chop the cabbage and avocado, and pick the leafy part of the cilantro from the bunch.
Begin to assemble your tacos. Place the fish at the bottom of your tortilla and start to layer on your other ingredients starting with cabbage, then avocado, followed by cilantro, and a few dots of your chili aioli. I recommend finishing it off by grating some lemon or lime zest over the top with a microplane - enjoy!
Don't miss the next lesson
Subscribe below and take control of your cooking!
Quality cookware, at honest prices


Quality cookware is too expensive. We're fixing that by cutting out the middleman and shipping the best cooking tools right to your doorstep. Become a part of something bigger and join The Brigade today.